It's Monday morning as I write this – the 28th May 2018.  Exactly one week ago I was resting in a tent at the South Col of Mount Everest having climbed to the summit that morning.  I arrived as dawn was breaking.
My steady progression from the Hillary Step up the summit ridge was in darkness; I watched sunrise from the top of the world with my summit Sherpa, Tenzing.  We were completely by ourselves.  We radioed base camp to update them.  When it was light we took photographs.  I took a snow sample that would later be sent to the Pyramid Research Station at Lobuche to be analysed for pollution levels.  Then, just as the first climbers from the North side were reaching the summit, and as a couple of my team-mates were coming across the final metres of the summit ridge, we began our descent.  It was almost 5:30am on 21st May and we had been at the summit nearly an hour.  Three hours later we were back at Camp 4 at the South Col (7900m) and, later that evening, back at Camp 2 (6350m).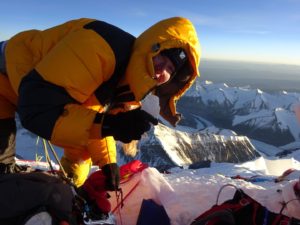 Collecting snow samples
The summit push was the culmination of almost two months' consistent effort – a lot of walking, a lot of waiting, a lot of physical degradation.  It's a mental game.  You count down the days and tell yourself to hold on just one more month, one more week, one more day….  Just keep walking.
We left Base Camp for Camp 2 on 16th May.  It was a 2:30am start so that we could get through the icefall in the cool of darkness, but we still had a long, hot walk through the Western Cwm.  We spent two rest days at Camp 2 while we waited for the go-ahead from coordinators at Base (weather, movements of other climbers and Sherpa availability all come into the decision).  On the 19th May we moved to Camp 3.  We were wearing our down suits and carrying as little as possible, but it still seemed a lot – sleeping mat, food, fuel, oxygen mask, hats, gloves, mitts, socks, torches and batteries… it adds up.  It made for a long, hot climb up the steep Lhotse Face.
Camp 3 is in the middle of the Lhotse Face and is not a nice place to be for long.  Rows of tents are perched on the steep slope and climbers unclip from the fixed ropes tentatively to walk to or around tents.  I barely left the tent at Camp 3.  We got oxygen for the first time here and I slept the night with the mask on my face and condensation dripping.  But the oxygen definitely makes breathing easier and thus walking less arduous. It's still hard and slow, but it doesn't feel quite so uncomfortable.
We left at 5:30am on the morning of the 20th May for Camp 4.  The route continues steeply up the Lhotse Face, then turns right to cross a rocky strip called the Yellow Band and then on to a rock buttress called the Geneva Spur.  Once up and over, it is a gentle traverse to the South Col and Camp 4.  We were there just after midday, relieved to get into the tent after another very warm morning in the sunshine.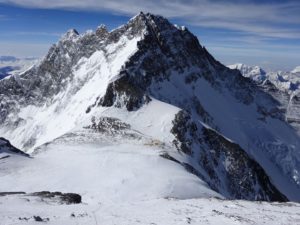 View down on Camp 4 at the South Col with Lhotse behind. Route down the mountain visible going to the right over the Geneva Spur
Here we had a rest and some food and drink before preparing to leave for the summit that evening.  We would walk through the night in order to reach the summit in the morning.  Since the descent is statistically the more dangerous part of the climb it is good to have plenty of daylight in which to act or coordinate rescues in case things go wrong.
Thankfully for us nothing went wrong.  We left Camp 4 between 8:30 and 9pm and began our slow trudge to the top.  As usual, it was long, steep and hard.  But one thing I learned is that time flies even when you're not having fun!  It feels awful.  You're just stepping, stepping, breathing, breathing – just wishing it would end.  But time passes, you get higher.  I recognised familiar markers as I got to them (the Balcony, the South Summit…) partly by their geography and partly by the stashes of oxygen cylinders there.  These were places I had read so much about and here I was!  I was ahead of others so I was experiencing these places pure and uncrowded, albeit in darkness.  The benefit of being a slight, light female is that the oxygen has a greater affect on us than on larger, heavier males, so often it is the women who are earlier to the top.
Then, without realising it, I climbed the Hillary Step and found myself looking along a snow ridge to the summit. It was still dark, but the horizon was just breaking into colour.  Sunrise at the summit was beautiful.  Suddenly we could see the whole landscape, not just the narrow beam ahead illuminated by the head torch.  Everything seemed so small!  Peaks that we had been looking up at from Base Camp, Camp 2 or 3 now looked inconsequential.  Even Lhotse, rising above Camp 4, looked tiny.  Everest is high, and it is truly extreme.  It is extremely hot or extremely cold.  It is steep almost everywhere, so you barely get a let-up anywhere beyond the Western Cwm.  But this is what makes it so impressive.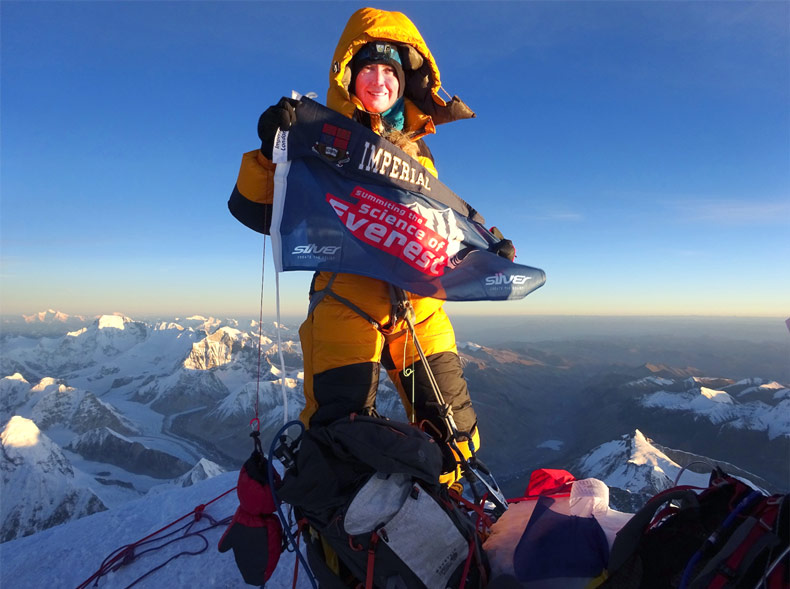 Me on the summit
Climbing Everest is tough – a long, constant attrition.  You need to be willing to put up with a bit of pain and hardship.  But for that you get to spend time in an extraordinary, majestic environment.  I've seen pictures of Everest, films, books… but nothing compares to being there.  I never fully understood the scale or the steepness until I stood there in the Western Cwm looking up.  I never considered the slow toll the altitude would have on my body and that I would be climbing the highest mountain in the world in less-than-perfect health.  I never appreciated how much the icefall would change between passes, subtly transforming itself on an almost daily basis.  I'm glad I experienced these things – the good and the bad.  I feel now that I understand that place better, and that is what I wanted.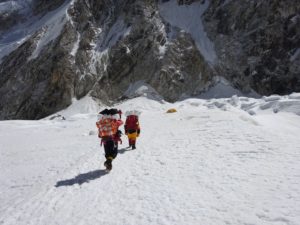 Sherpas descending from camp 1
I also feel that I have a better appreciation of what the early ascensionists endured in their pursuit of Everest.  Of course we have it easier – we have more lightweight clothing and equipment, less cumbersome oxygen sets, easier communication with base camp and the outside world, improved medical understanding and facilities, and the possibility of helicopter rescue.  And we don't have the uncertainty of the route or the obstacles on the way.  But I have an insight into what they went through.
Me and my summit sherpa, Tenzing, back down in base camp.
Sixty-five years ago Mount Everest was climbed for the first time.  Time and scientific development have made it possible for ordinary people like me to contemplate visiting the highest point on our planet.  This is exciting because to reach for our boundaries is natural and enriching, and I feel privileged to have been able to walk in those historical footsteps and experience such an extraordinary environment.
29th May is the 65th anniversary of the first ascent of Mount Everest.