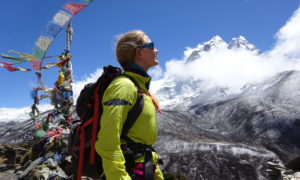 Melanie's expedition to Everest took two months but, in some ways, you could say that it took Melanie five years to get to the summit of Everest.
In 2013 the climbing community celebrated the 60th anniversary of the first expedition to successfully reach the top of the world: Edmund Hillary and Tenzing Norgay's 1953 summit of Mount Everest. The event, held at the Royal Geographical Society, inspired and intrigued her and she wanted to learn more about the history of climbing Everest and about the advances in science and technology that helped make that first ascent possible. As she found out more and more, Melanie realised that with the right planning and preparation, she had a chance of climbing Everest herself. Over the following years she built on her climbing experience by climbing in the Andes and the Himalaya. The "serious" phase of planning for the Everest climb started at the beginning of 2017, once the promotional phase of her 2016 book, Aurora, was over.
From Kathmandu to Everest Base Camp
Melanie flew from Kathmandu to Lukla and arrived in Namche Bazaar at 3440m on 8th April 2018. From there her team progressed slowly towards Everest Base Camp to acclimatise for high altitude. They stayed in Pangboche at 3930m for two nights, then took an alternative route via Dingboche to Chukhung, and then over to Lobuche via the high Kongma La pass at 5535m.  This gave them some extra exposure to altitudes above the level of Base Camp, which would help with their acclimatisation.
Taking it slowly is key to acclimatising and climbers often have fewer problems than trekkers, because their schedules allow for adaptations, whereas trekkers are often on a tight, rigid schedule.
Altogether Melanie's team spent ten days trekking from Lukla (2800m) to Everest Base Camp (5300m).
From Everest Base Camp to the summit of Everest
Once at Base Camp, they went on several rotations up the mountain and back to Base Camp. The rotations take you successively higher up the mountain to acclimatise your body ahead of the eventual bid for the summit. Each rotation takes several days and also includes rest days at the higher camps.
Melanie went on two rotations, though there were plans to go on three. Nothing in the mountains is certain or entirely predictable, so it's good to have some flexibility. Melanie was actually very pleased to not go up a third time, and was relieved she had acclimatised well. The rotations are a psychologically challenging part of the climb.
Other than the climbers' acclimatisation, expedition leaders have to consider the organisation higher up the mountain. Sherpas prepare the high camps above Everest Base Camp as well as the route. While that is going on, leaders observe the weather forecast, looking for a window of good weather.
When everything – logistics, weather, acclimatised climbers – came together, Melanie's group set out for the summit in two waves. Melanie's summit team of four left Base Camp on 16th May and spent a rest day there for logistical reasons before heading on. They summitted Mount Everest on 21st May, descended to Camp 2 that night and safely returned to Base Camp on the 22nd.
How long does it take to climb Everest?
You could say it takes 5-6 days to climb Everest, from Base Camp back to Base Camp. Or you could say two months, which is the length of the expedition (and the reason it takes all that time is because of the need for the human body to acclimatise to high altitude).  But in reality, Everest takes years, because experience of climbing, how your body responds to altitude and how to look after yourself in extreme environments are the most important things you will need to climb Mount Everest. Then add to that all the years of dreaming…  So, you see, "How long does it take to climb Everest?" is not a simple question at all.
Video: How risky actually is it to climb Mount Everest? And if it is so risky, why do people still do it? Before her climb Melanie visited the University of Cambridge to talk to statistician Prof. David Spiegelhalter and psychologist Sander van der Linden to find out about risk and how to best deal with it.