I'm writing a book on the Northern Lights, and as part of the research I'm travelling to various Arctic regions – Sweden, Norway, Canada and Iceland being the main ones.  Looking at the map, I feel I should be visiting Russia too, as I'm actually missing out half the world!
In March I visited the north of Norway, travelling from Alta (North of Tromso marked on the map) to Hammerfest and up to North Cape, the most northerly point of mainland Europe.  With a Norwegian friend, Cecilie, I watched the start of the Finnmarkslopet dog-sled race, went snow-mobile riding and visited a reindeer herd with a Sami herder. And we did a bit of aurora hunting too.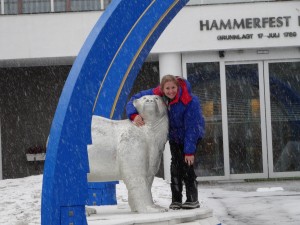 In just over a week's time I'll be off on a four week trip to Canada, the USA and Iceland.  I'll be visiting scientists at the University of Calgary then travelling up to Athabasca and Yellowknife (you can see Yellowknife on the map, just outside the Arctic circle) to see some of the research stations and take in the landscape.  In the US I'll be visiting Boulder and the Space Weather Prediction Centre.  Then in Iceland I'll be learning about the geothermal landscape.  It should be an interesting trip!  I'll try and report back as I go along.