---
Melanie is very interested in science and exploration and how they drive each other.  So she likes to mix up her science and her adventures.  Here are some of her plans and past adventures.
---
APRIL/MAY 2018
Melanie will be climbing Mount Everest in Spring 2018 and working on a public engagement programme to show the importance of science and technology to safety in the mountains.
Read more about the project and sign up to her blog for updates.
AUGUST 2017
Melanie went to America to see the total solar eclipse on 21st August. Then she went down to Colorado with some friends and hiked the beautiful 4 Pass Loop in the Maroon Bells area.
JUNE 2016
Melanie went to Peru with an Alpine Club team to climb in the Cordillera Blanca. The team attempted classic peaks in the difficulty range AD to D+. Read Melanie's blog posts of the trip in the Science & Exploration part of her blog.
DECEMBER 2015
Melanie successfully climbed Aconcagua, the highest mountain in South America. Read her blog.
FEBRUARY-MARCH 2015
Melanie visited Svalbard in the winter as part of her research for the book she's writing on the Northern Lights.  She spent time with scientists at UNIS, visited the Kjell Henriksen Observatory and the EISCAT radar, and skied out across the island towards the East Coast, staying out in the wilderness for a week.  Melanie was with a guide and they were pulling all their equipment in pulks.  Svalbard was only just coming out of polar night in mid-February when they started, so they skied under a milky-blue twilight gradually getting a little more daylight each day.  Melanie's trip ended with the incredible solar eclipse on 20th March.
Melanie wrote four blogs for the Institute of Physics and International Year of light, which are reproduced on her blog page.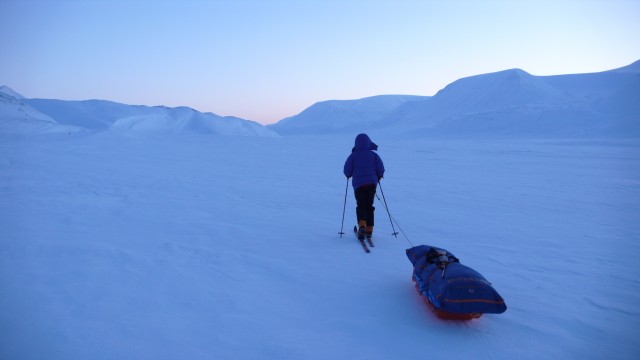 OCTOBER 2014 – MOUNTAIN SCIENCE
In October 2014 Melanie went to the Himalayas attempting to climb Putha Hiunchuli (7246m). As part of this trip she developed some educational resources on the science behind some of the things you might want to think about if you're venturing into the mountains – like the bright sunlight or the intense cold.  These are available via Anturus, the education adventure people.
Unfortunately the team were unable to climb Putha Hiunchuli, being unable to even reach base camp when they were caught in Cyclone Hudhud.  See Melanie's brief blog post on what happened, or watch the film she made about the expedition.
Read the results of the experiments in the blogs section of this website or check out the Mountain Science educational resources.